Features
1) Measures indoor PM2.5, PM10, CO2, temperature and humidity every 60 seconds.
2) USB connection for indoor use only.
3) View weather data on our free WS View APP after the WIFI configuration(needs to work with GW1000 WIFI gateway - sold separately).
4) View Real-time / 24H average AQI / 6 grades AQI indicator: Good, Moderate, Poor, Unhealthy, Severe and Hazardous
5)The GW1000 Gateway(sold separately) supports MAX 4 WH43 PM2.5 Air Quality Sensors.
6)For Indoor use only

Specifications:
Measurement

Range

Accuracy

Resolution

PM 2.5

0~999 ug/m3

>100 ug/m3, ±15%

<100 ug/m3, ±15 ug/m3

1 ug/m3

PM 10

0~999 ug/m3

>100 ug/m3, ±25%

<100 ug/m3, ±25 ug/m3

1 ug/m3

CO2

0- 40000 ppm

400-10000 ppm ±(30 ppm ±3%)

1 ppm

Temperature

-40°C – 60°C (-40°F - 140°F)

± 1°C, or ± 2°F

0.1°C, or 0.1°F

Humidity

0%~99%

± 5%

1%
Line of sight wireless transmission (in open air): 300 feet (100 meters)
Frequency: 915/433/868 MHz
Update Rate: 1 minute
Power Consumption:
Powered by AC Power (5 V 1A) - Not included
2 X AA 1.5 V batteries for backup - Not included
View Live Data on Free WS View App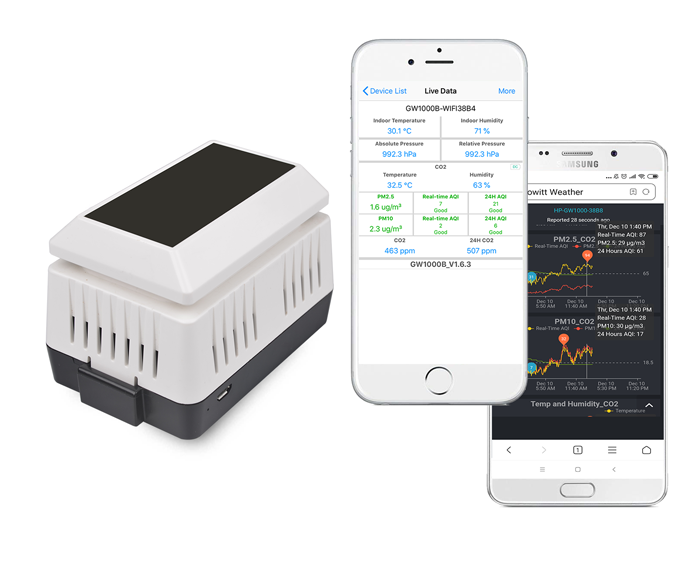 When paired with a GW1000 Wi-Fi Gateway:
· Monitor live sensor data on the Live Data page of the WS View app (requires the gateway and your phone using the same Wi-Fi network)
· Displays current PM2.5 / PM10 concentration/AQI and 24H AQI and air quality level index on the Live Data page of the WS View app
· Displays current CO2 concentration and 24H average CO2 concentration on the Live Data page of the WS View app
· Displays temperature and humidity data where the sensor located
· Calibration function available for PM2.5 value
When paired with a Weather Station Console (HP2550/HP3500):
· The PM2.5, PM10 and CO2 data automatically scrolls displaying on the screen every 5 seconds
· Calibration function available for PM2.5 value